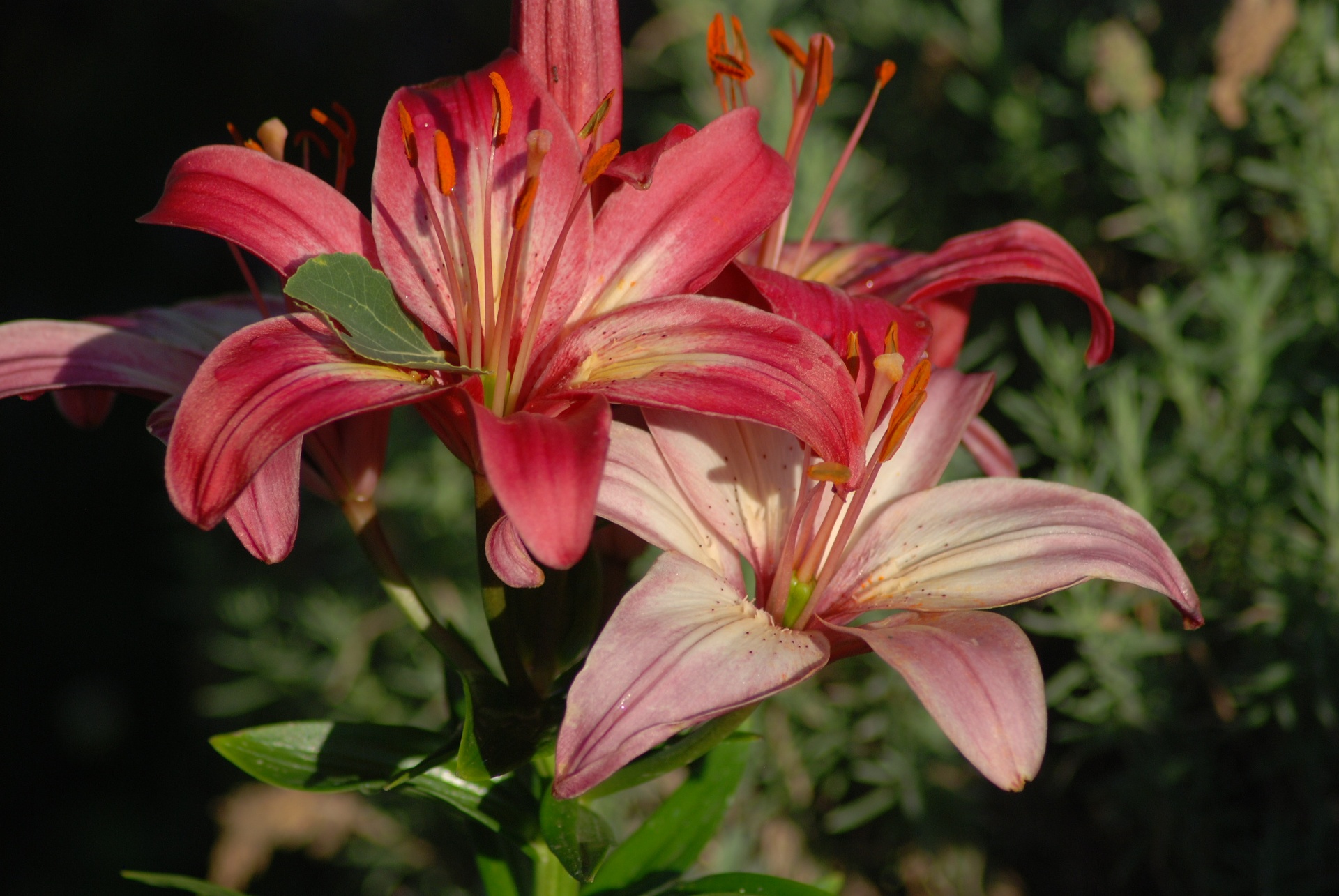 There is something so lovely about summer eating. Just like summer living, we lighten up, throw on the lightest of coverings and enjoy! So in the spirit of light I am offering you some truly wonderful ideas for Pure and fresh eating!
Lets start with dessert, even though we are told growing up that dessert is for" after all vegetables are eaten."  I say why not combine the two of them?
Blender Ice Creams offer you an endless opportunity to experiment with fresh fruits and vegetables!
The basic recipe goes like this (All ingredients are organic)
4 ounces of raw milk cream
4 ounces of raw milk
1 raw egg yolk
1 tablespoon of raw honey
1/2 to 1 cup of fresh or frozen fruit or vegetables or if your adventurous mix them together! (I love blueberries with apples and kale)
dash of sea salt
1/2 capful of vanilla extract
Mix in a high powered blender and freeze in a covered glass dish of some sort for 3 hours Enjoy!!
If you love salads in the summer this one is fun and different!
Romaine letteuce
watercress
1 red pepper
1 cucumber
1 small onion
2 carrots
1 cup of red cabbage
1 cup of cooked chick peas
chop and mix the flavors with parmesan cheese and a light dressing
Gazpacho soup
2 cups of mangoes
2 cups of orange juice
1 cup of cucumber
1 red pepper
2 garlic cloves
3 tablespoons of lime juice
2 tablespoons of cilantro, basil or mint
1 tbsp of olive oil
sea salt and garnish on the side for added taste
Garnish can be avacado, salt and pepper
This is a savory and sweet soup. Great with a salad and fresh bread/ goat cheese
Remember that light doesn't have to be boring!
Also, the table setting is equal to the dish being served. Linens and fresh flowers and festive glassware make it all come together for a memorable meal in the garden or patio with friends and family.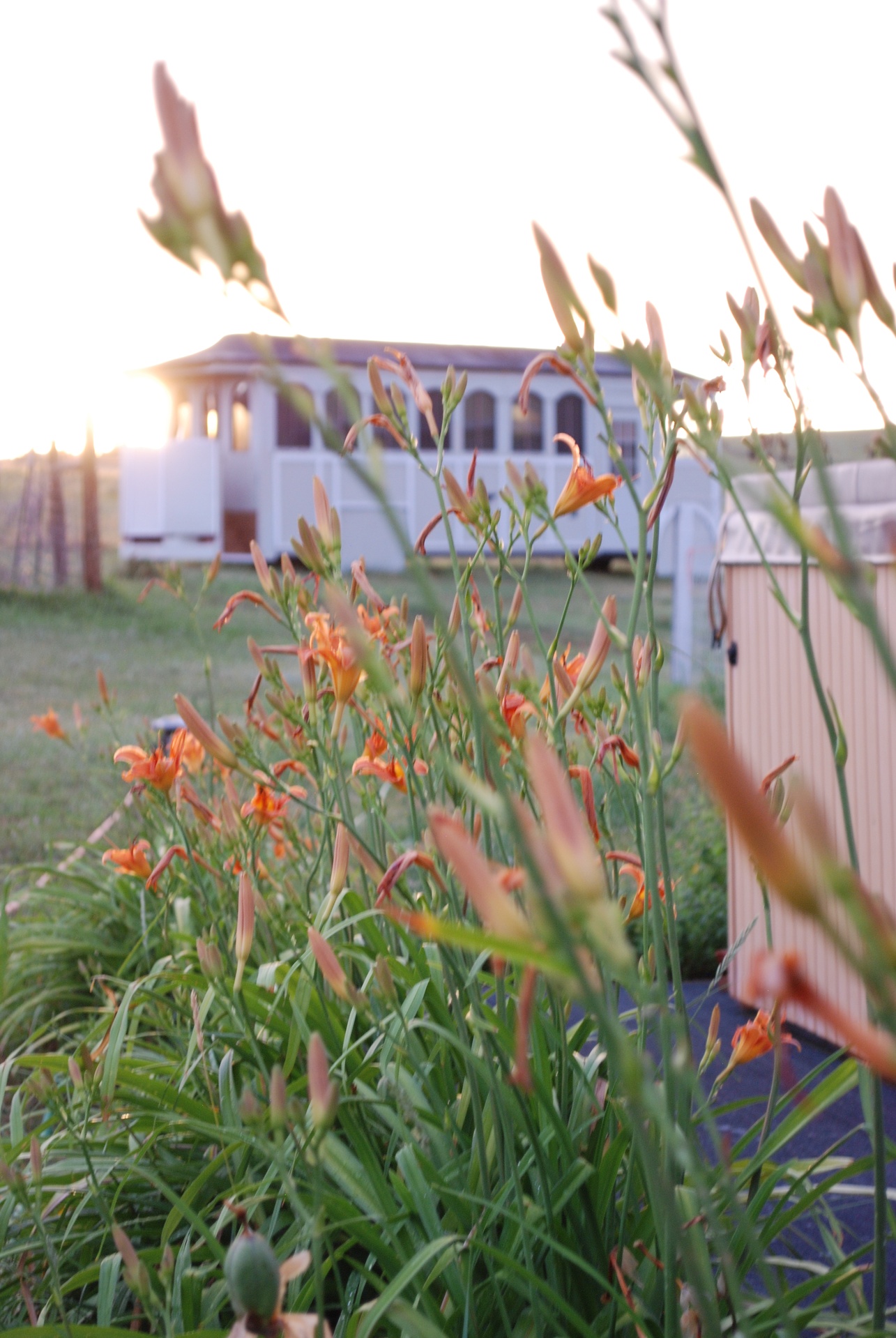 When you think of a bed & Breakfast what image comes to mind? A manor or a castle or a Victorian home? How about a Trolley?
What? A trolley car? Yes...a beautiful and unique trolley. A place of comfort and romance, a place of views and art work and a chandelier above your bed. Sprigs of lavender on your pillow. Tea or wine in the sitting area. Classical music, horses thundering by. For extra pampering and joy, how about a side by side massage, or a soaking in the jacuzzi under the stars. On good nights you can have a fire and watch a movie. It's a place where magic can happen. It's a place of reconnection. It's a beautiful place and the hens, with names like Chickee and Ruby, will present you with breakfast eggs, served in beautiful wares. Charm abounds here...memories are made.
I have always thought that weeds were alot like sin. How easily they grow under the worst of conditions. There can be a flood and the first thing that returns is a weed. There can be a drought and in the middle of the cracked and barren soil is a weed. The soil can be sand, clay, rock, where nothing of value grows except for,( you guessed it) weeds! While flowers and vegetables take nurturing and compost and nutrients, water and prayer. Lots of prayer. Weeds grow in every condition and in every place (much like hair when your older and it grows in WRONG places but that is a story for a different time)
So I started to research weeds from a medicinal stand point and I found some fascinating facts about the plants we call "weeds." They can be really good for you!  My favorite "weed" in the world, the dandelion. I personally do not understand why a dandelion is considered a weed. Have you ever seen a meadow of them in the sunlight? In their yellow glory they are magnificent!  Did you know they are full of Vitamin A and that they are great for you liver? That they compliment a salad with a tasty flavor and when steeped make a decent tea? There are a number of different weeds that bring a beautiful salad to a new level. Did you know that most weeds are edible? Ok I know that a lot of you are saying "Yuck" right about now and I understand. I think however it is important to keep in mind that with the bees collapsing in large part because of herbicides to kill weeds (Roundup being the most widely known and used) cancer rates soaring and babies being born with 250 chemicals in their umbillical chords, (which translates to a chemical bath invitro) it is incredibly important to stop using these unbelievably damaging chemicals and make peace with weeds.  There are ways to make peace. One is to accept that weeds are a part of life and can be managed without chemicals. You can burn them, use vinegar on them, salt them in a cracked driveway, or use them as I do as therapy and pull them out after a rain or a good soaking with the hose. You can grow them like flowers which some of them look just like flowers you buy, you can mow them low and use them for ground cover in your garden. I love dandelions because they feed my rabbit a healthy treat, they bring food for honey bees, they brighten up my yard and they make me smile in their cheerfulness! In the later stages they make a great photograph. Which always leaves me smiling.