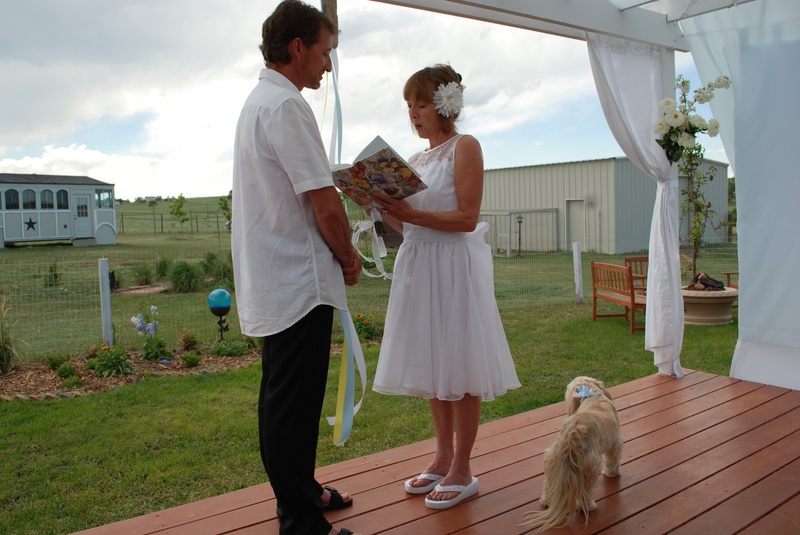 It's a beautiful thing a wedding. It is this promise, this belief that life is worth the commitment of love. It is a happy and joyous day that warms our hearts. Country weddings are especially beautiful to me, as they are usually simple and heartfelt and warm.
Today two friends of ours John and Tama, married their best friend. In the little white church after the 2nd service. The Pastor who blesses me so much, brought it home by sharing this at the end "Then when life is done and the sun is setting, may they be found then as now, still hand in hand, still very proud, thanking God so much for each other."
The women in the packed church were patting their eyes, the men blinking in rapid sucession. A baby hollered "YEA!" and it was so! Yea!
Yea to the promise, yea to the future, yea to the joy of finding such grace.
My husband reached out and bridged the distance between us since a morning of short directives and indifference. Not alot of grace was found in our little pocket of "Happily ever after" both of us tired and stressed from our pressing on the potters wheel  within the confines of our marriage. Job, health, finances and a bad neighbor. We had sat in the church earlier a distance apart in our hearts until the reminder of Gods promise to us and the hope of the Pastors final words "May they be found hand in hand, thanking God for each other."
I turned and looked into his eyes and found his soul and I thanked God that I had someone by my side after all these years who knows me and still takes my hand. It's called grace and it is what holds us together. (Picture is of my husband and I renewing our vows on the farm in 2011)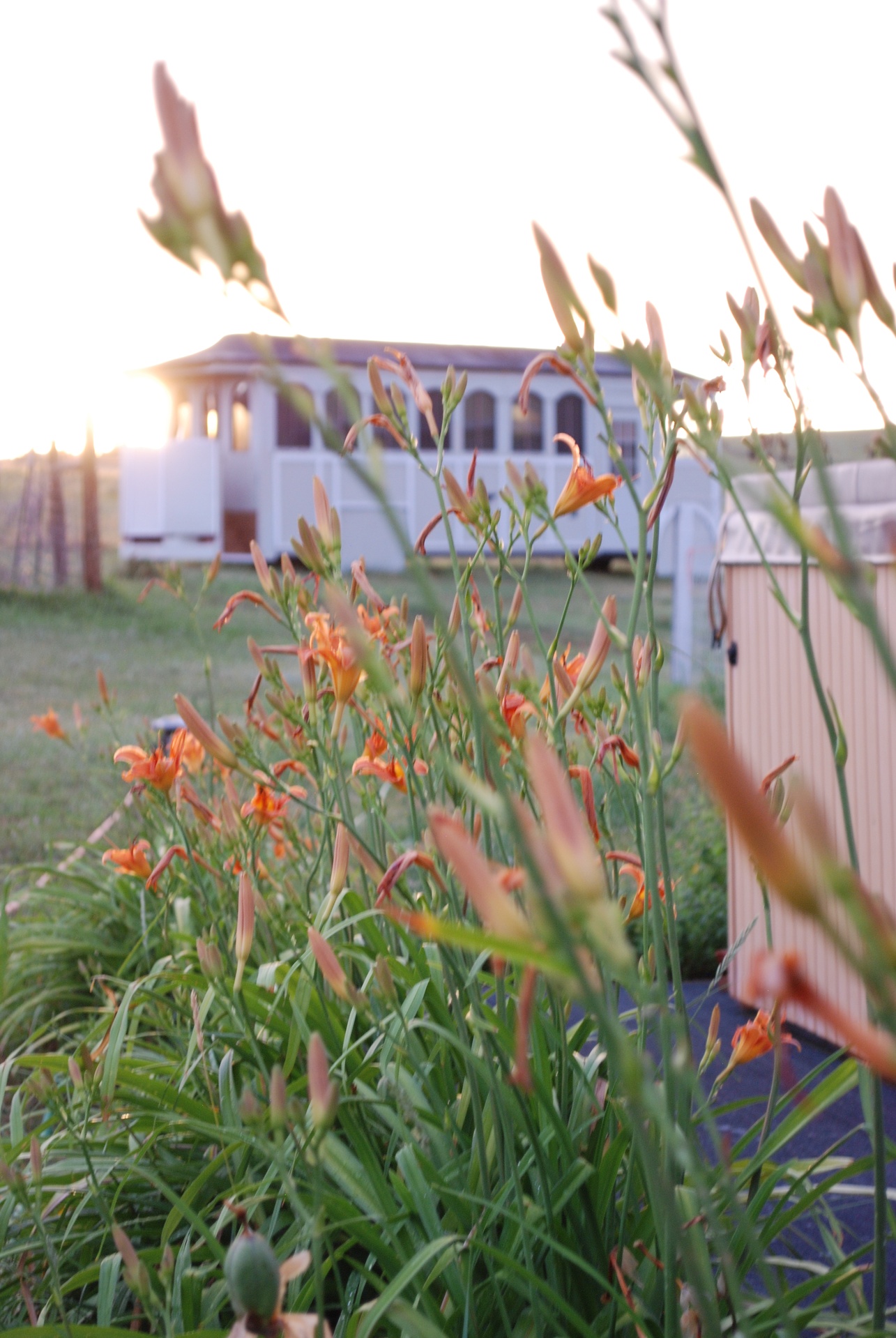 When you think of a bed & Breakfast what image comes to mind? A manor or a castle or a Victorian home? How about a Trolley?
What? A trolley car? Yes...a beautiful and unique trolley. A place of comfort and romance, a place of views and art work and a chandelier above your bed. Sprigs of lavender on your pillow. Tea or wine in the sitting area. Classical music, horses thundering by. For extra pampering and joy, how about a side by side massage, or a soaking in the jacuzzi under the stars. On good nights you can have a fire and watch a movie. It's a place where magic can happen. It's a place of reconnection. It's a beautiful place and the hens, with names like Chickee and Ruby, will present you with breakfast eggs, served in beautiful wares. Charm abounds here...memories are made.
They hang like twinkling diamonds in the ink of might. We lay on our backs upon quilts sewn by hands that were narled and divine. My grandmothers hands. I can feel her love pressing against my back and my heart swells with the memories of summers past. I am 8 years old and I am laying in the pickup bed of the old red Chevy. My cousin's are wrestling around me and all I wish for is to be peaceful and look up into the stars. My grandmother is leaning over the bed with a cherry pie in her hands. The cousins stop rough housing as the scent of the crust, made with butter and the cherries hand picked from the trees that afternoon are beckoning. I can't really make out her beloved face in the dusk but I can feel her breath upon my cheek as she whispers into my ear "Your favorite"
That summer was the beginning of many summers with my grandmother. Each memory becomes another layer of my heart for the country. Though I was raised a city mouse I was always eager for the country. Laughing with my grandfather as he taught me how to ride a horse and sitting on his lap I learned to drive a Chevy pickup. I can still remember the scents of his cologne and his pipe and the homemade bisquits and pies my grandmother made. The ranch was sold after their deaths, one at 87 and the other at 100. Amazing love between them and I am the bearer of the quilts that came before.
I have called my husband out to join me and we lay on our backs with our hands entwined and we look up. Into the expanse of sky with stars that are a constant. When generations have come and gone the stars keep shining. We call out the galaxies we see as they appear. We watch the last vapor of a star streak across the night sky. It's a country tradition to just be still and count the stars. To know that from the beginning of time stars kept watch by night. These days we don't eat many pies but we still watch the stars and we court our love beneath them